HOW TO PLAY!
SHAKE IT UP! Dice is a new Head-to-Head dice game featuring the world's only deck-of-cards-on-dice! You can play against friends or against our friendly game characters.
The game has a scorecard with several goals. The goals are inspired by popular card games like rummy and poker. Like other dice games, players can take up to three (3) rolls of the dice to achieve each goal. Win points when you get the hand, and you win bonus points when your hand is a higher rank than your opponent's!
LET'S GET STARTED!
COMMON QUESTIONS
SCORING
LEVEL UP, XP, & ACHIEVEMENTS
PLAYER ACCOUNT & GAME SETTINGS
HOW DO I GET HELP?
LET'S GET STARTED
About the Dice
These nine poker-dice have 54 total sides, which contain every playing card from a standard deck of cards…plus 2 Wild cards!
The card faces are specifically arranged on the dice so that it is possible to achieve every 4-of-a-kind, every Straight Flush, and every Royal Flush.

Find Friends & Start a Game
​STEP 1: Select New Game from Home Lobby, which is the first screen you see when you open the app.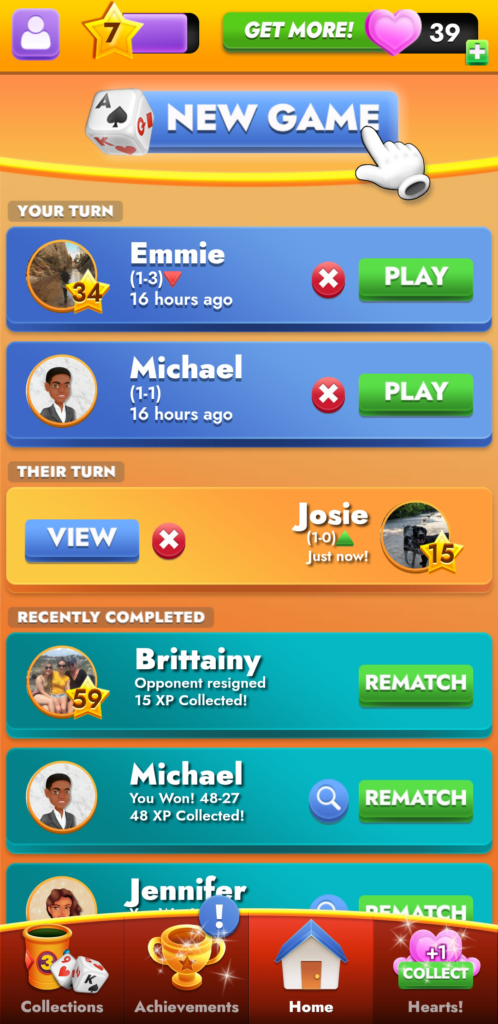 STEP 2: Selecting PLAY FRIENDS will allow you to find a Facebook Friend or a Prior Opponent who you can choose to challenge. You'll see a list of all of your Facebook Friends who already have the game. You can also invite new friends and win hearts for every friend who accepts!
OR you can select the MATCH ME! button at the top of the screen to be paired with a new random opponent!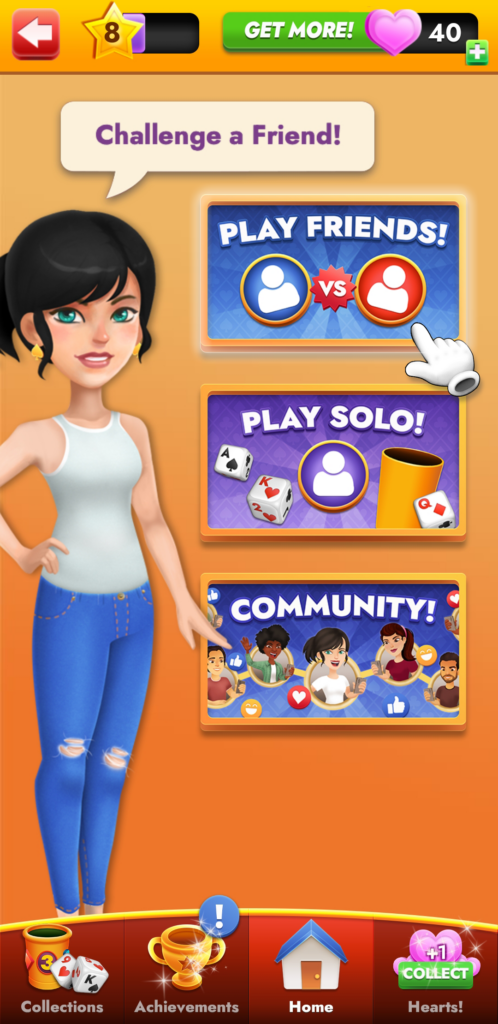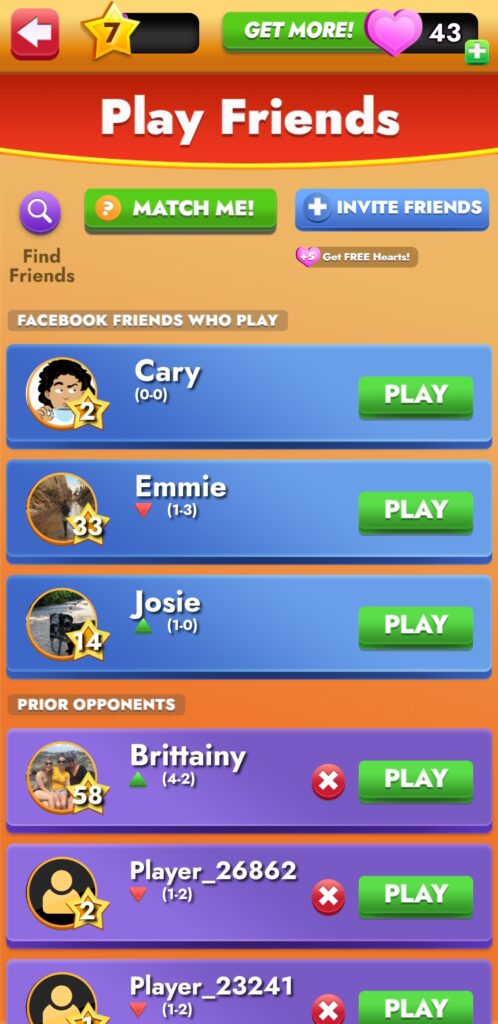 Another option for Step 2 is to select PLAY SOLO and choose one of our Friendly Game Characters to challenge!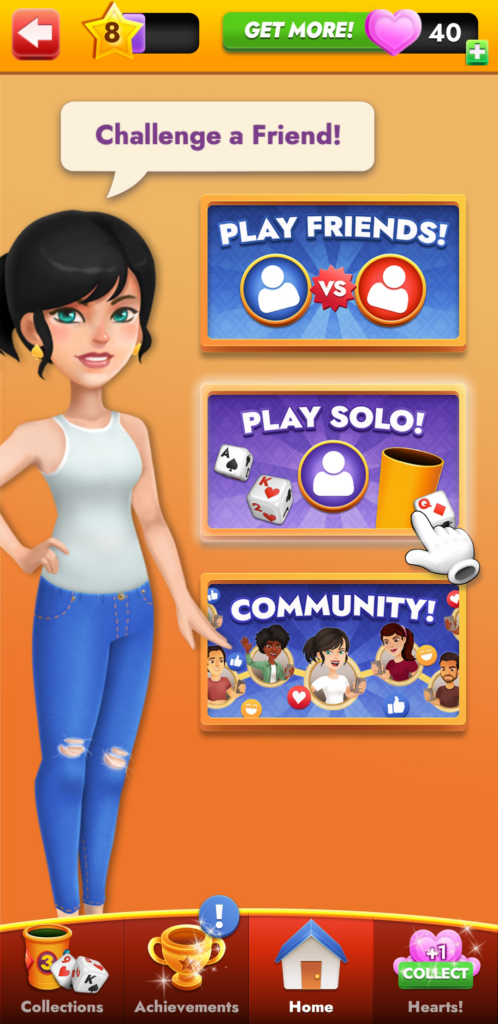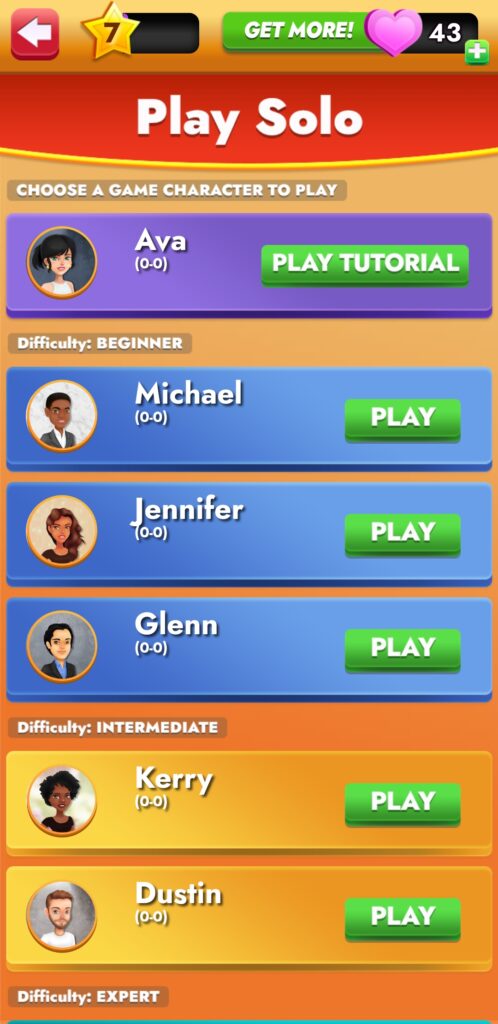 Playing My Turn (aka Round)
In SHAKE IT UP!, we call "turns", "rounds". Each round consists of three (3) playing card hands. You are assigned the card hands and need to match the goal! You have three (3) rolls of the dice to achieve the match.
After each roll, keep any dice you like, and re-roll the rest. Tap each die to hold any that can help you reach your goal. Tap again to un-hold.
Points are earned when you correctly complete a hand, with bonus points awarded to the player with the higher-ranking hand.
Example Round, with a Three-of-a-Kind Hand Assignment: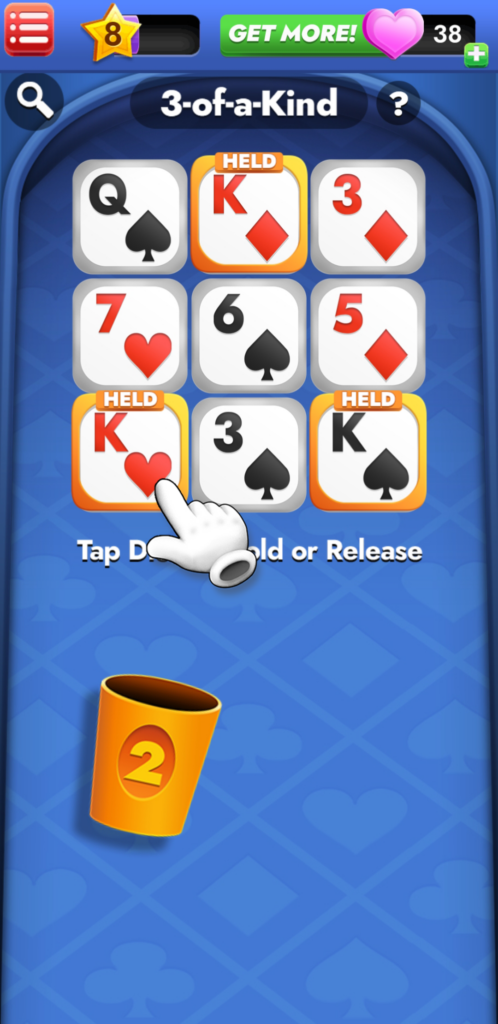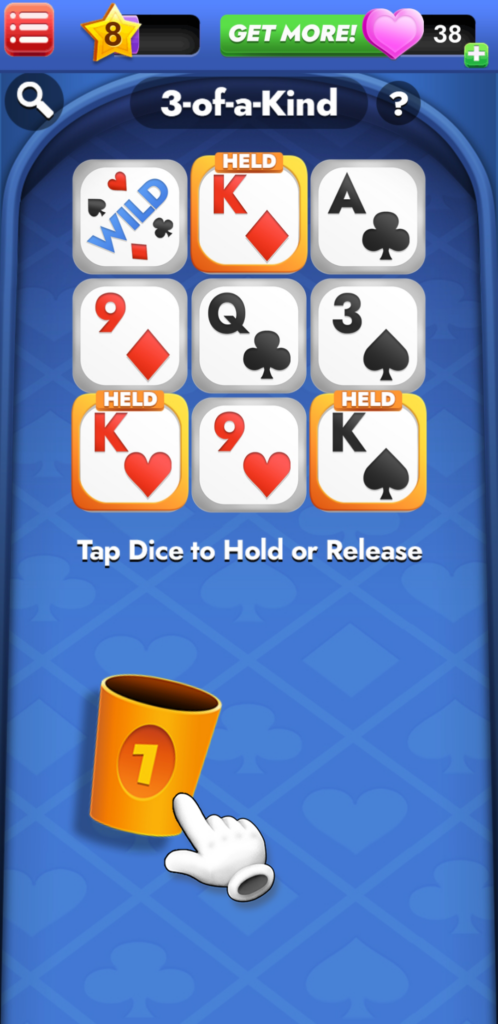 Roll 1: Player holds 3 Kings…lucky 1st roll!
​Roll 2: Player keeps rolling …just in case they get lucky!​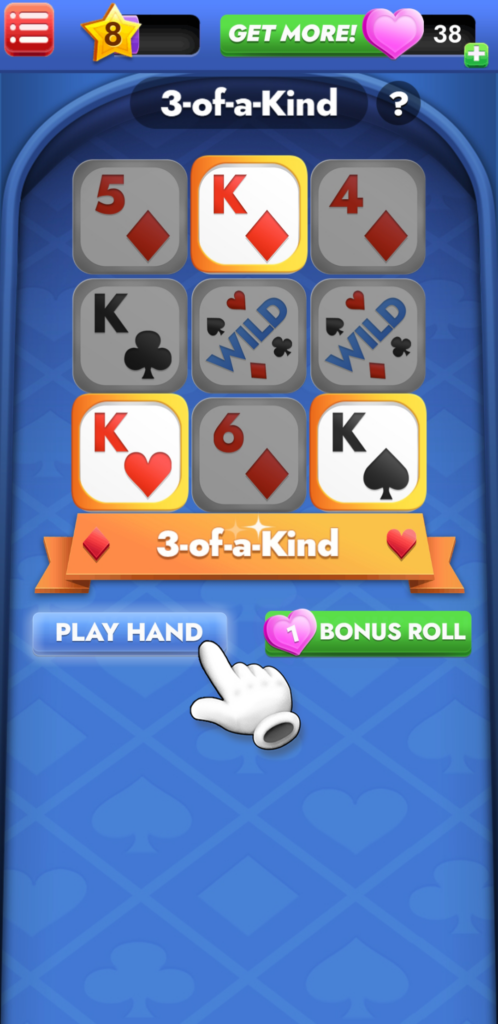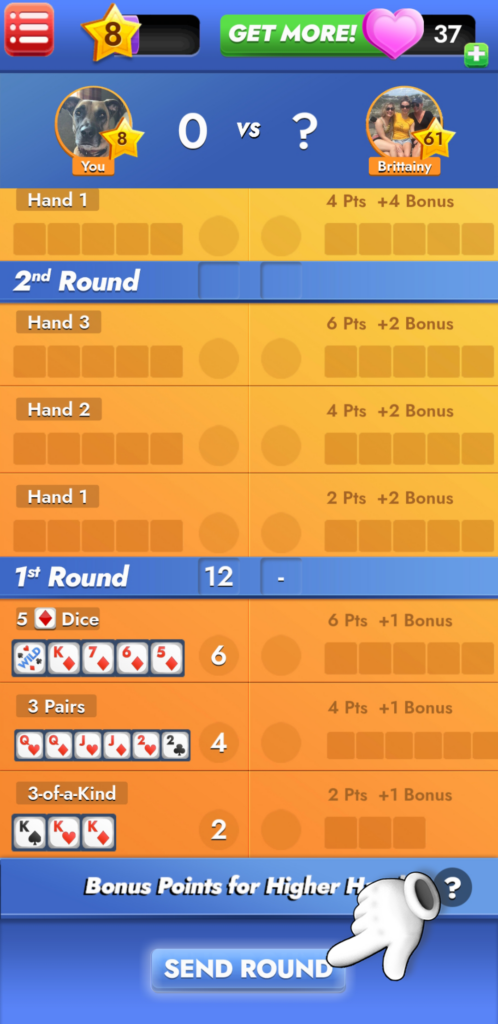 Roll 3: Player rolls Three-of-a-Kind & Presses PLAY HAND to continue!
After playing all three hands in the round, Player presses SEND ROUND, then returns to the lobby and can play someone else!
Your Opponent's Round
​Other people can play their round whenever they like! Bot characters play back instantly.
Playing A Pending Round
The Home Lobby consists of three sections: Your Turn, Their Turn, Recently Completed. If there are any games within Your Turn section; simply press PLAY to begin your awaiting turn!
If game notifications are ON, you will receive a notification when it's your turn. Just press the notification, and this will take you straight into your turn.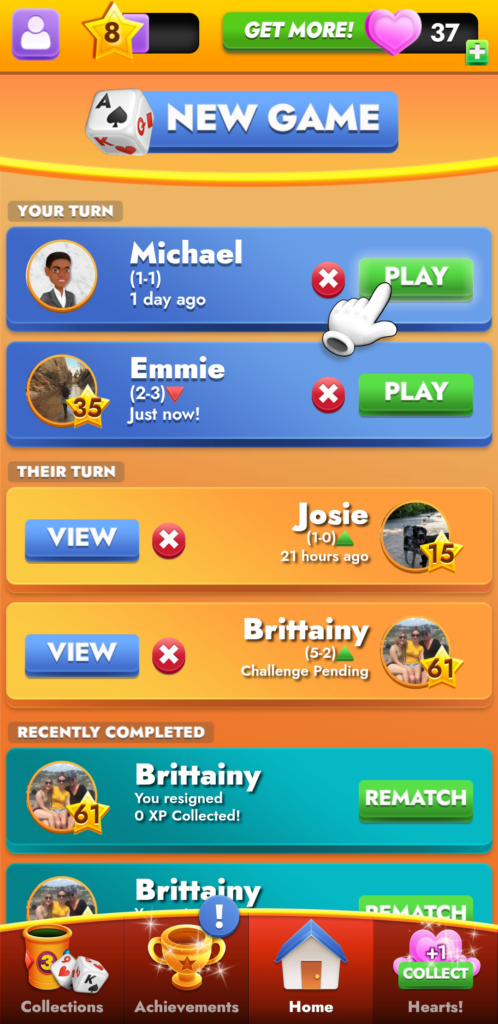 Viewing Current Game Progress
From the Home Lobby; select the 'View' button at any open game in the 'Their Turn' section to view current game progress, then the 'Back' button to return to the Home Lobby.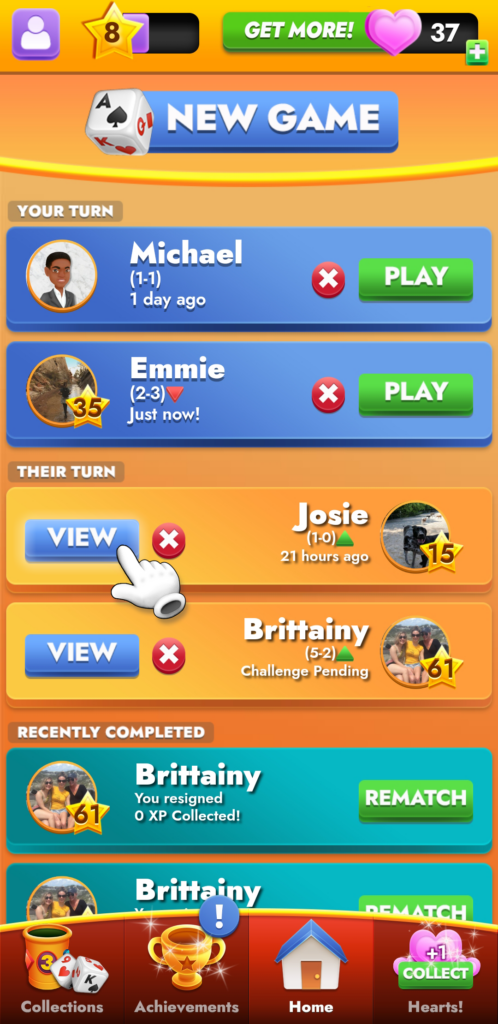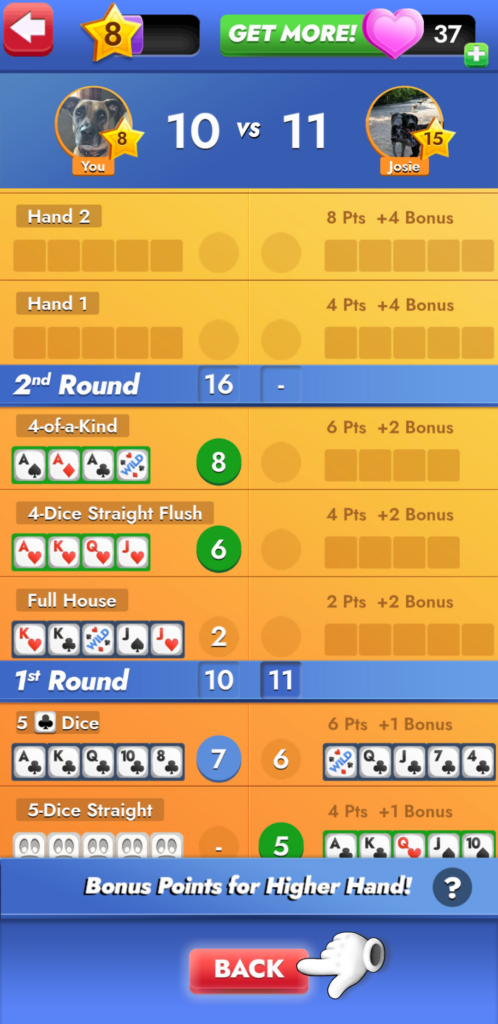 COMMON QUESTIONS
What are Suits?
Like typical playing cards, the cards that are arranged on our SHAKE IT UP! Dice belong to one of four categories, or suits. They are Spades ♠, Hearts ♥, Diamonds ♦, and Clubs ♣.
What are the Card Ranks?
Rank is the order of strength of a card's face value, from lowest to highest. Aces may be used as the highest or lowest ranking card—but are most often the highest. Here's the order of card ranks that are arranged on our SHAKE IT UP! Dice: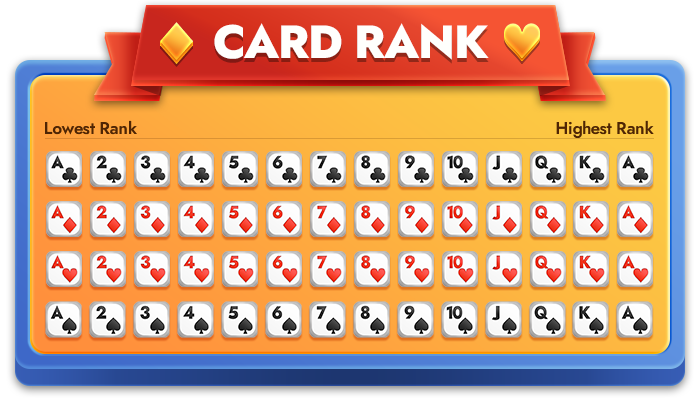 What are Hand Ranks?
The SHAKE IT UP! Dice "Hands" are ranked from easy (Two Pair) to difficult (Royal Flush). The Hands are inspired by Poker and Rummy. Some hands are more difficult to achieve than others. The more difficult the hand, the higher the rank. Here's a chart of all of the SHAKE IT UP! Dice hands: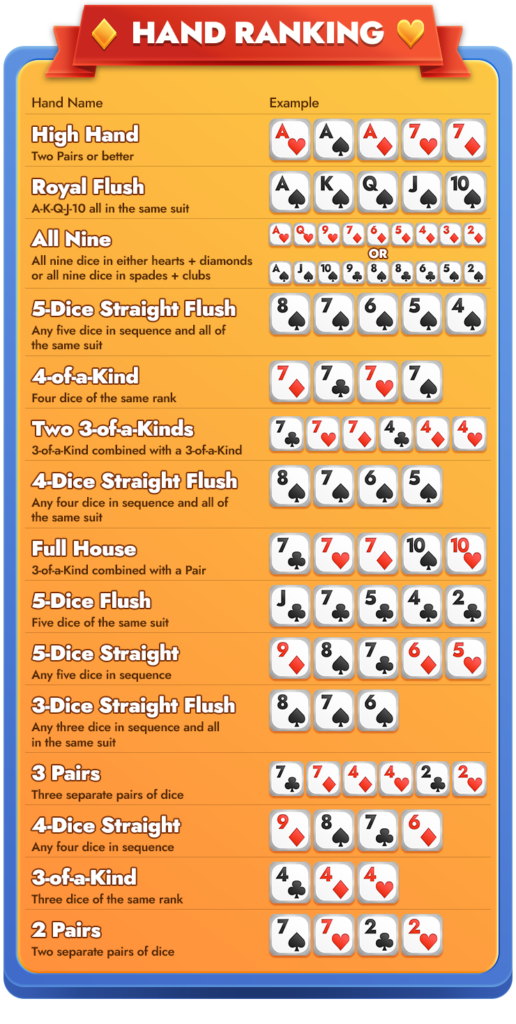 How do WILD Dice Work?
Wild dice are used to complete any hand assignment – but you have to hold them! There are 2 wild dice in the deck, and they will automatically be used as the highest possible value to complete your hand. Here are some examples:

How Do I Know What's on the Hidden Sides of the Dice?
Use the magnifying tool to see what is on the other sides of the dice.
Can I Replay the Practice Round?
​Simply navigate to the PLAY SOLO page and choose the 'Play Tutorial' button from the top.
How do I Know my Win/Loss Record Against An Opponent
Your record is shown under the name of your opponent in the Main Lobby, as well as in the "Friends who Play" list. A red arrow means you have a losing record, whereas a green arrow means a winning record.
After you reach Level 3, you can tap your friend's profile picture to see the result of all of the games you've ever played together!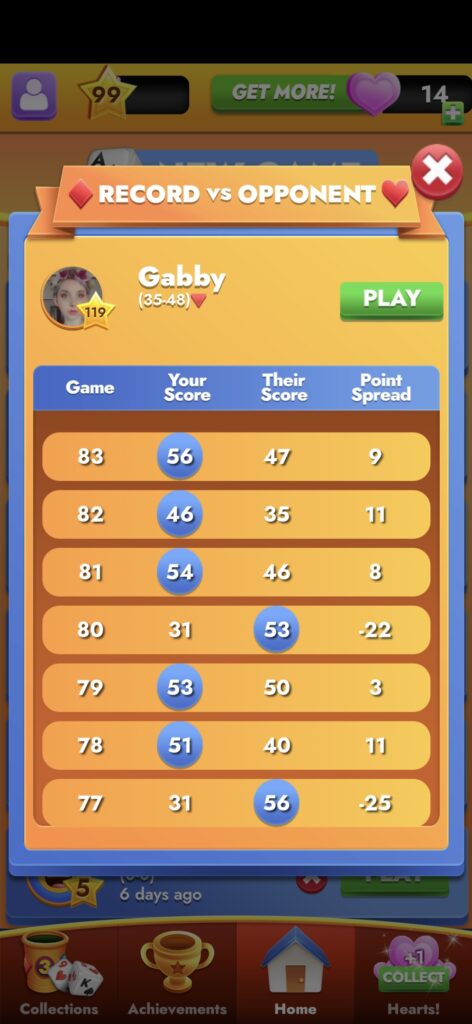 SCORING
Earning Points
Points are earned by achieving any assigned hand. If you correctly complete a hand, you earn the base points for that hand! Once both players complete the round; outcomes are revealed and bonus points are added to the base score for the player with the higher-ranking hand.
Hand Assignments
Assigning hands makes the game more competitive for Head-to-Head results—and makes the game interesting for expert and novice players alike!
Both players are assigned the same hands, in the same order!
Do I Still Get Points If My Opponent Rolls a Better Hand Than Me?
YES! As long as you complete the hand, you automatically get the base points for that hand.
Bonus Points
​Players are awarded bonus points when they get a better hand than their opponent, and when they tie their opponent!
Tied Games
You both get bonus points!
You both get bonus points!
A High Hand is always the last hand on the scorecard, and is worth the most points. Think of it as a Freestyle Hand–there is no assigned goal, and players have 3 rolls of the dice to roll the best possible hand. Players earn the base points if they roll ANY hand, but just like the rest of the game the player who rolls the BEST High Hand wins the bonus points!
LEVEL UP, XP, & ACHIEVEMENTS
Bonus Hearts
Didn't get the goal? Want to make your hand better? Use a Bonus Heart! Bonus Hearts are used for extra rolls and to start over (restart) a hand with a fresh set of three rolls.
How do I Get More Bonus Hearts?
Answer #1: Simply collect your hourly Bonus Heart reward in the Home Lobby when the timer counts down to 0:00!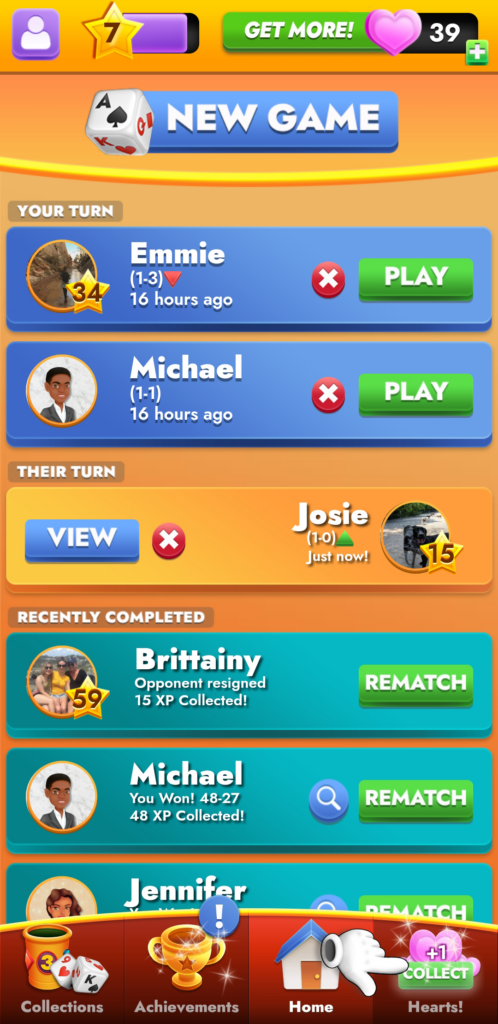 ​Answer #2: You get some free Bonus Hearts each time that you Level-up!
Answer #3: Tap the green '+' button at the top of the screen at any time for the opportunity to purchase hearts or to watch an ad for a free heart.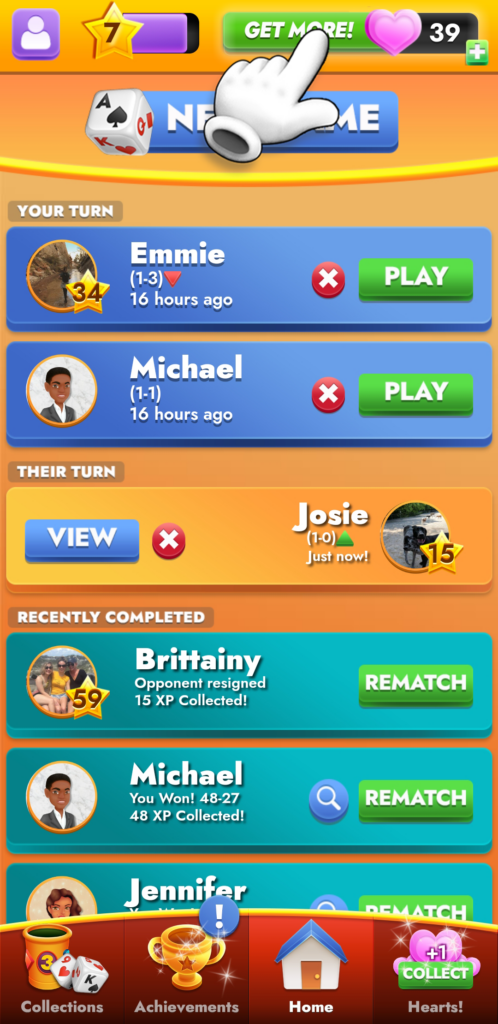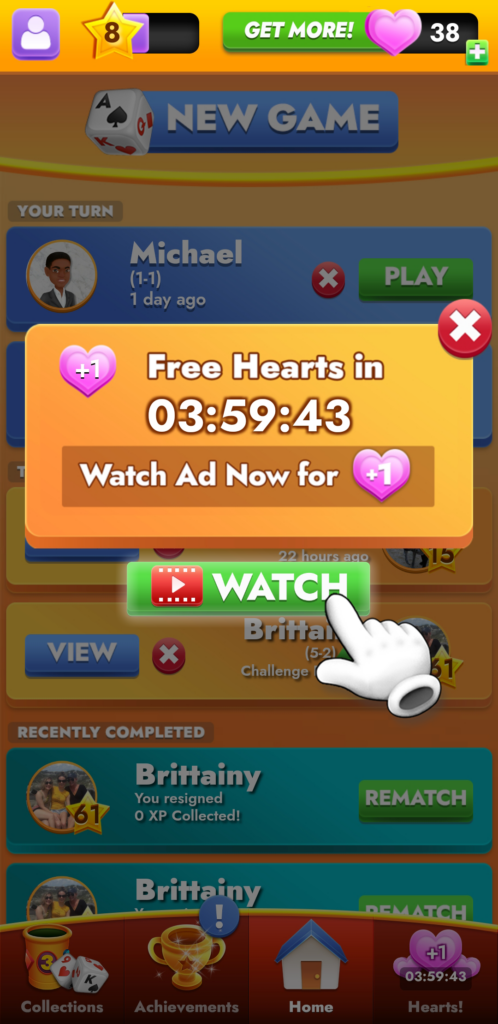 Answer #4: You can watch an ad for a free Bonus Heart almost anytime: when the timer bonus is not ready, from the purchase screen, or even in-game when you are out of Bonus Hearts!
What is XP?
XP = 'Experience Points' that are earned for playing. Each time XP is earned; you will see your level progress meter fill a little more. Once it has reached 100%, you will have officially earned enough XP to progress to the next level of the game
XP is equal to your game score, so the higher your final score achieved for each game; the more XP you earn!
XP is also awarded through completion of game Achievements (see below for more).
Level-Up
​You will level-up each time you earn enough XP to fill your progress meter to 100%.
When you level-up you'll win free Bonus Hearts and unlock new game themes that you can enjoy!
Achievements
​Achievements are accomplished by completing specific game "tasks". Some examples are:
Rolling Five 3-of-a-Kind hands with Aces
Winning 5 Consecutive Games in a Row
Total High Hand Wins
Earn XP by completing these tasks, you will earn XP that will help you level-up even faster! You will also earn trophies—you can check your trophy collection in the Player Profile area.
*See the complete list of game achievements by pressing the 'Achievements' button on the bottom navigation bar.
PLAYER ACCOUNT & GAME SETTINGS
How do I change my name and profile image?
Navigate to the Player Profile tab by pressing the Player Profile button. Tap on the pencil to edit your name and choose one of the available profile images!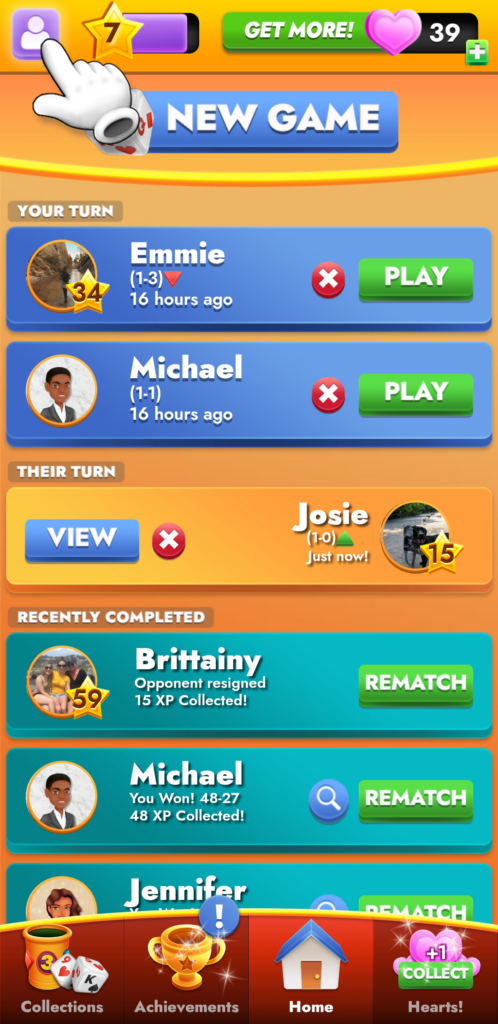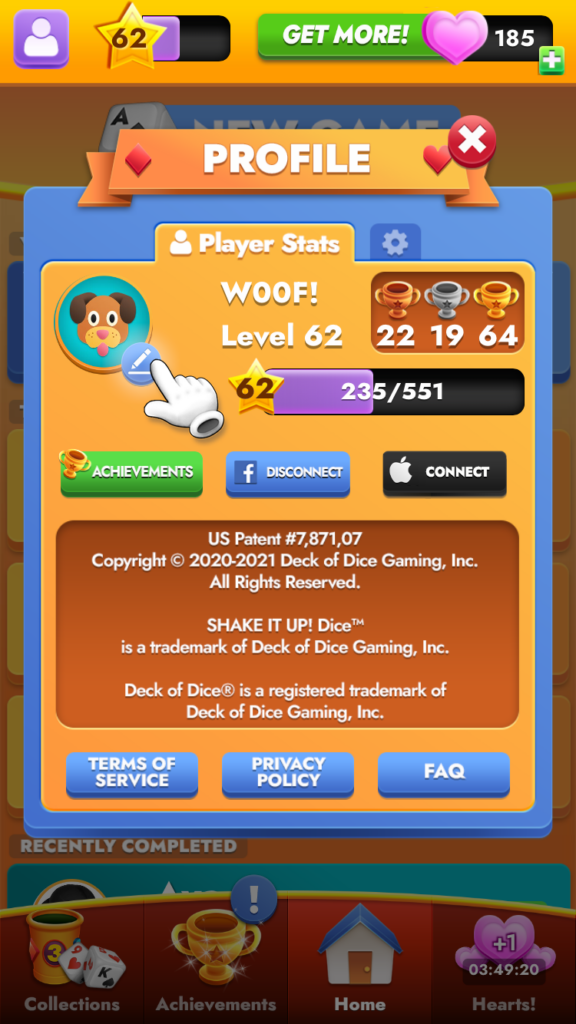 How do I change game settings?
For example, turning sounds and vibrations on/off, or making the scorecard animation go faster?
​Navigate to the Player Profile screen (above), then find the Settings tab by pressing the Gear button.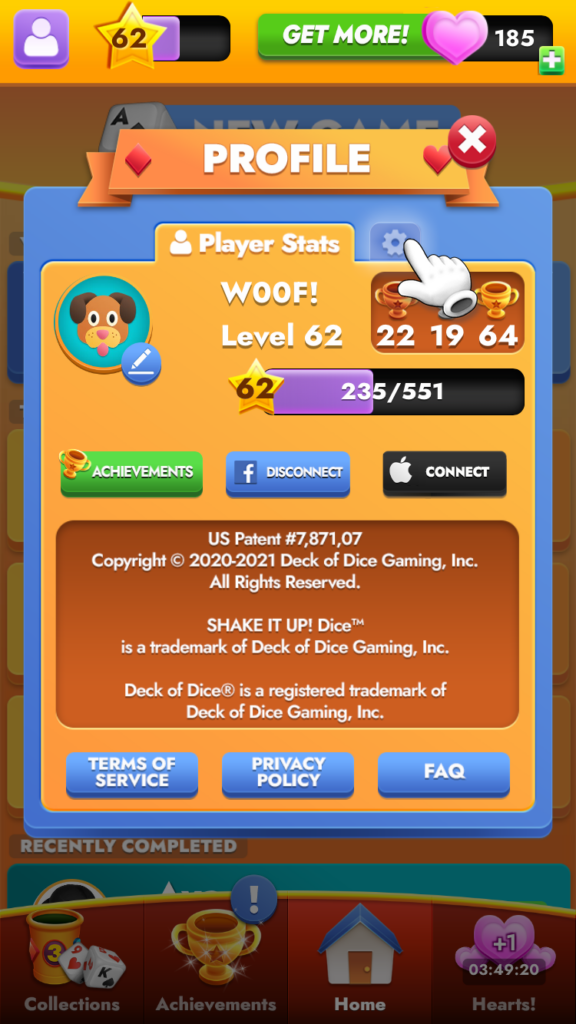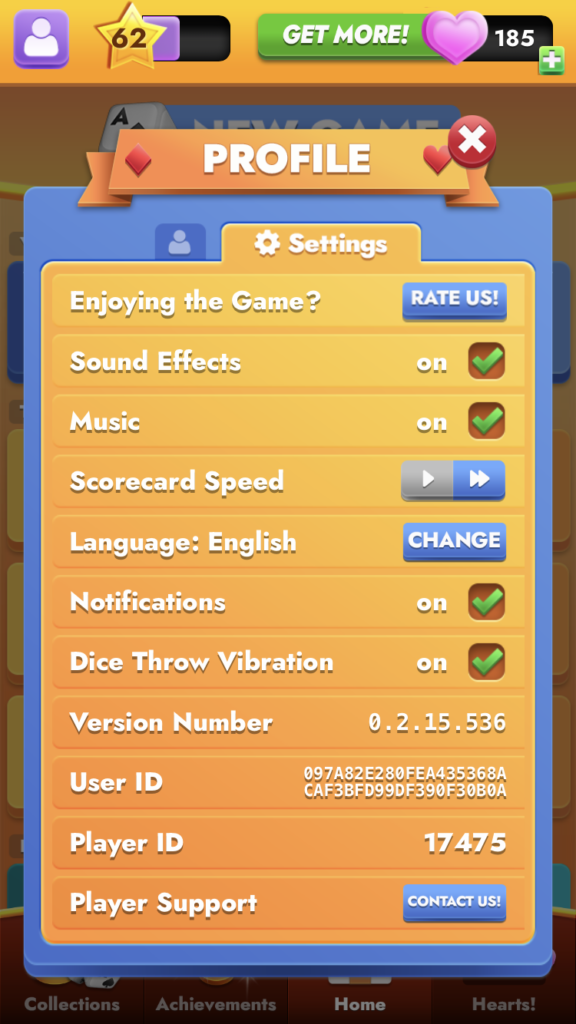 What Happens To My Hearts If I Connect to Facebook After Playing As A Guest?
All your hearts will transfer with you! Plus, players receive a 5 heart bonus if they sign-into FB. You will be rewarded ONLY for the first time when connecting to Facebook.
HOW DO I GET HELP?
Contact Customer Support
If you need assistance, just email us at [email protected]!
Finding Your User ID
It's important for you to include your User ID when emailing us so we can properly assist with any issues that may be occurring. To find your User ID:
Go to your Player Profile
Click on the "Settings" Tab (gear icon)
You'll see your User ID at the bottom of the Settings Tab. See below picture for reference